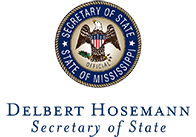 Hinds County Properties

Bidding Opens: August 27, 2015
Bidding Closes: 5:00 p.m., September 17, 2015

Sealed bids will be opened at 10:00 a.m., September 18, 2015 at:

Secretary of State's Office
Public Lands Division
125 S. Congress Street
Jackson, MS 39201

Process for submitting a sealed bid on the tax forfeited properties listed below:
Identify the property that you want to purchase from those listed for bid below.
Follow the link below and download the Bid Form.
Fill out the Bid Form by providing all the required parcel and bid information.
Place your completed bid in an envelope, and seal it.
Write

"Hinds County—Do not open until September 18, 2015(sealed bids date)"

in the lower left hand corner of the sealed envelope.
If mailing your bid, address the envelope to the Public Lands Division-Bids, Mississippi Secretary of State, Post Office Box 136, Jackson, MS 39205.
If hand delivering or delivering by courier, address the envelope to the Public Lands Division – Bids, Mississippi Secretary of State, 125 S. Congress St, Jackson, MS 39201.

Property values are shown for informational purposes only.

Unless specified below, no minimum bids are required.
Bids must be actually received in the Office of the Secretary of State by 5:00 p.m. on September 17, 2015. It is the responsibility of the bidder to ensure that bids are actually received by the deadline. The Secretary of State is not responsible to any bidder for bids not timely delivered. Any bids received after the deadline will not be opened and will be discarded.
Bids will be opened and read aloud starting at 10:00 a.m. on September 18, 2015. (It is not necessary for those who submitted bids to be present for the opening.)
Successful bidders will be notified via mail promptly after the bid opening, the winning bidder will have 15 days to submit payment in full by money order or cashier's check only. No partial payments will be accepted.
All sales are subject to the approval of the Governor. Parcels are sold on an "as is" basis. All sales are final, and no refunds will be made. No more than one-hundred sixty (160) acres may be purchased by one person within one year.
Your patent (deed) will be delivered via certified mail approximately 45 days after the Secretary of State receives payment of the purchase money.
Click here for link to Bid Form

Click here for link to Bid Notice

Click here for link to Hinds County Auction Map

If you have questions, call (601-359-5156).

Individuals or corporations may submit bids. By law, nonresident aliens or associations composed in whole or in part of nonresident aliens may not bid.

(Hover over house icon to see image, click to enlarge)