Tuesday, February 7, 2023
Secretary Watson Completes 82-County Tour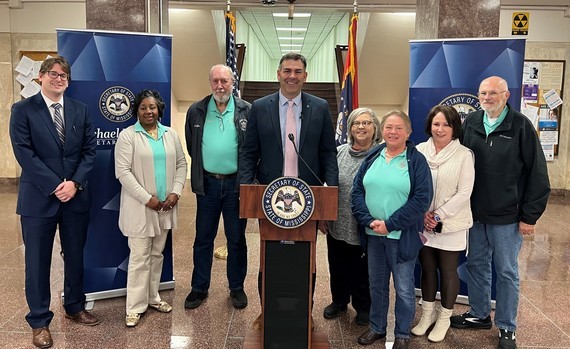 JACKSON, Miss – Secretary of State Michael Watson announced the completion of the 82-County Tour this morning at the Jackson County Courthouse.

Prior to the announcement, Secretary Watson visited with Jackson County election officials inside the courthouse. The Jackson County visit was stop 82 of 82 on the tour.

"The relationships formed and lines of communication established during our 82-County Tour have been invaluable. Our circuit clerks and election commissioners are the boots on the ground for Mississippi elections and play a vital role in keeping them safe and secure. Ensuring their voice is heard has been an integral part of the tour and will remain a steadfast component of my tenure," said Secretary Michael Watson.

Launched in 2020 upon Secretary Watson taking office, the 82-County Tour was designed to build strong relationships, discuss voting-related issues and brainstorm ideas to help strengthen the overall elections process with all circuit clerks and election commissioners in the state. 

Feedback from county election officials has already assisted in framing proposed elections legislation including Elections Support Fund (ESF) increases and post-election audits. Additionally, heightened poll worker recruitment efforts have developed due to the consistent response of county, state, and nationwide poll worker shortages.

The tour began on January 28, 2020 in Adams County but was quickly paused due to the COVID-19 nationwide shutdown. Wanting to complete the tour prior to the conclusion of his first term in office, Secretary Watson forged ahead with as many as four county visits on some days.