Wednesday, January 18, 2023
Secretary Watson Hosts Spring SOS Ambassador Summit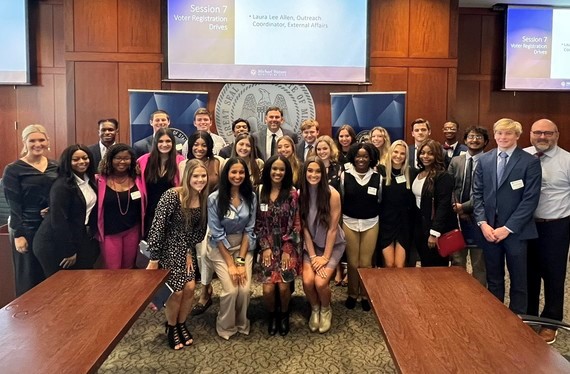 JACKSON, Miss - Secretary of State Michael Watson hosted the Spring Summit this week for members of the inaugural SOS Student Ambassador program. The group of high school seniors convened in Jackson for a full day of sessions which included the legislative process, voter registration drives, and other SOS-related content.

"I relish the time I get to spend with our SOS Student Ambassadors. These students have a genuine love for Mississippi and are some of the brightest young minds in our state. I'm thankful for their commitment to making our state better and for the impact they have had on me," said Secretary Watson.

Ambassadors had the opportunity to participate in a reverse question and answer session with Secretary Watson where he inquired about some of the biggest challenges facing Mississippi's youth and ways state officials can address some of their concerns.

Lieutenant Governor Delbert Hosemann informed the group about the legislative process and highlights for the 2023 Legislative Session. Another highlight from the day included a Lunch & Learn with Chevron representatives who educated students on various jobs within the corporation, starting salaries, and internship opportunities. 
The day concluded with the announcement of the winner of the SOS Student Ambassador Secretary of State. New Albany native Alea Hudson earned the title after a riveting campaign speech and election among her peers.

The SOS Student Ambassador program currently consists of 56 students from 44 schools in 28 counties across all four congressional districts and is designed to equip high school seniors with the knowledge and resources to engage as leaders within their schools and communities.

The 2023-2024 Student Ambassador application will be available on the Secretary of State's website in the coming weeks. For questions, or if you're interested in the Ambassador program, please contact the External Affairs Division at ExternalAffairs@sos.ms.gov or 601-359-4454.