Monday, December 14, 2020
MISSISSIPPI'S SIX PRESIDENTIAL ELECTORS CAST ELECTORAL VOTE FOR PRESIDENT & VICE PRESIDENT
JACKSON – The Presidential Electors of Mississippi gathered at the State Capitol Monday morning to cast their electoral votes for President Donald J. Trump and Vice President Mike Pence. Mississippi's six electors, nominated by the Republican Party and selected by the voters of Mississippi during the 2020 General Election, included Frank Bordeaux, John Dane III, Francis C. Lee, Terry Reeves, E. Bruce Martin and Johnny McRight. 
"It was an honor to oversee a function so intelligently crafted by our founding fathers who had the foresight to balance the interests of small rural states with those of larger states containing sprawling urban areas," said Secretary Michael Watson.
"The 2020 Election Cycle included more than 113,000 newly registered voters and the most votes ever cast in Mississippi's storied election history. Incredibly thankful for every voter, poll manager, election official, legislative leader and Secretary of State team member who contributed to the success of our state's safe and fair election process."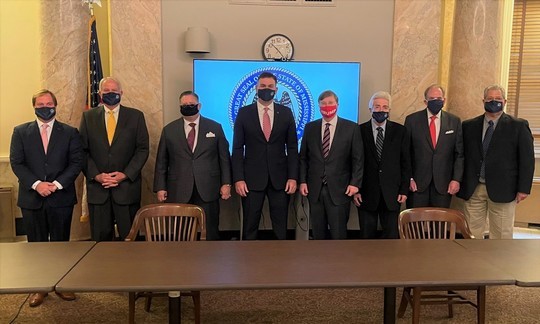 (Left to right: Frank Bordeaux, John Dane III, Francis C. Lee, Secretary Michael Watson, Governor Tate Reeves, Terry Reeves, E. Bruce Martin, Johnny McRight)
During the meeting, all six electors signed the Certificate of Vote, which certifies Mississippi's electoral votes for the 2020 General Election. The Certificate of Vote, along with the Certificate of Ascertainment completed by Governor Reeves, will be sent to the following:
Mike Pence, President of the United States Senate
Chief District Judge Daniel P. Jordan III, Southern District of Mississippi
David Ferriero, Archivist of the United States
Mississippi Secretary of State's Office
Certified results from the 2020 Election Cycle are available on the Election Results page of our website. For more information about State election laws or other election information, visit Y'all Vote (yallvote.ms) or call the Elections Division at 601-576-2545.