Tuesday, January 31, 2023
Secretary Watson Presents John Lewis Youth Leadership Award
JACKSON, Miss – Secretary of State Michael Watson presented co-recipients Bobby L. Hudson III (Harrison County) and Maisie Brown (Hinds County) the National Association of Secretaries of State's (NASS) John Lewis Youth Leadership Award during a special presentation at the Mississippi Capitol on Tuesday.

"Maisie and Bobby are bright young leaders in Mississippi. It is an honor to recognize these exemplary citizens who embody the spirit and tenacity of Congressman John Lewis," said Secretary Michael Watson. "I am grateful for their contributions to our state but know the best is yet to come for these outstanding individuals."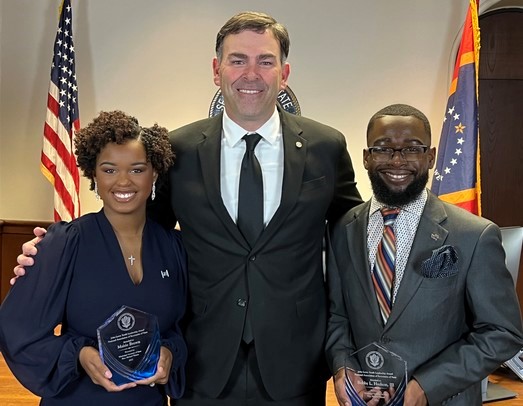 From L to R: Maisie Brown, Secretary Michael Watson, Bobby Hudson
 

Hudson was nominated by Joseph "Jody" Holland, associate professor at the University of Mississippi. Brown received nominations from State Senator David Blount and State Representative Zakiya Summers, both representing Hinds County.

"I'm extremely honored to receive such a prestigious award especially in the name of such an icon and inspiration to so many other young people who want to make change. I hope to serve as an example to other young people across the state who want to make the world better and as a representative of my dear old college home. For other young people who want to get involved but may be fearful, JUST DO IT! There will never be the 'right' time because it's always the right time to help those who need it." -Maisie Brown

"I am so honored to be selected as a recipient for the John Lewis Youth Leadership Award. This award and its namesake are truly humbling, and I am so grateful to be recognized with such a prestigious distinction. Receiving this award reaffirms my belief no matter how young or old you are, you can always make the changes you are passionate about."    -Bobby Hudson

Both Hudson and Brown have been featured in national publications for their civic contributions to Mississippi. The articles may be accessed at the links below.
Hudson is currently a senior at the University of Mississippi majoring in public policy leadership with an education minor. Brown is a sophomore at Jackson State University majoring in political science.

The John Lewis Youth Leadership Award was created in 2021 as a way for NASS members to recognize a gifted, civic-minded young person in their state each year. To learn more about the award, click here.